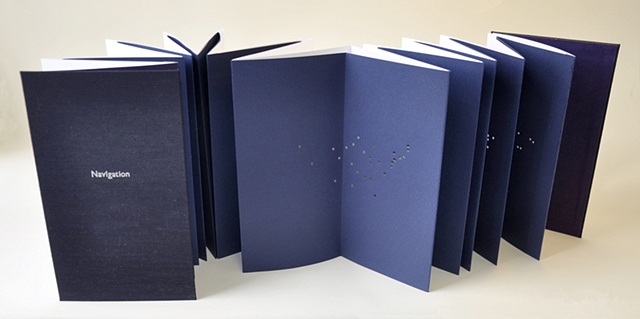 Artists Books and Prints
I enjoy observing the world's small, passed-over details; looking at everyday situations, I distill them down to their essence and then extend it outward to our collective experience. In my current work, I observe my environment and pay attention to things I might miss while I am busily going about my day. I reflect on my own experiences and life, from daily dog walks and trips to visit relatives, to interactions with my wife. I want to make the viewer laugh and pause to consider the unnoticed facets of the world.
My process starts with examining life around me; gathering details, making lists, drawing diagrams and maps. I find the lines and shapes of patterns and use them to begin the process of developing a complete experience, a path for the viewer to navigate. I work in traditional bookbinding structures and use methods of reproduction such as woodblock and letterpress printing for the tactile qualities they give to the final artwork. The history and form of the book appeals to me and I find ways to play with that history. My goal is to make well-crafted artist books and prints that tell a story in a graphic and oblique way.